Congratulations to all who participated and contributed to the successful tournaments held over the 28 – 30 January time period. There were some great plays, good sportsmanship and many new friendships made during the events. Thanks to all the hosting schools for once again putting forth the extra effort to make the IASAS experience a memorable one.
All information regarding results that is available at the time of this post are included. The full results will be updated when the information is available.  (Click each thumbnail image to see the full image.)
Swimming:  Team results are: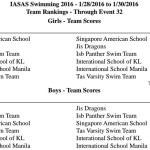 Results for each event can be found at this link.
Basketball: (At this time, only Bronze and Fourth place teams are known.)
Girls – Gold  SAS   Silver  ISM   Bronze ISKL  4th place TAS                             (Thank you for the updates Mr. Magill & Hannah W.!)
Boys – Gold  SAS    Silver  JIS    Bronze TAS   4th place ISB