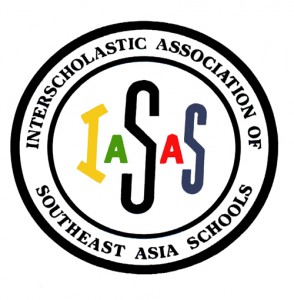 Interscholastic Association of Southeast Asian Schools, founded 1982
The seeds for this organization of international schools were planted with the initial yearly sports exchanges between Singapore American School (SAS) and International School Bangkok (ISB), started in 1961.  In 1980, The International School of Kuala Lumpur (ISKL) asked to participate in these events, creating what became known as the Triangular Games.  Then in 1981 Jakarta International School (JIS) expressed interest in joining these games.
ISB's HS Principal at the time, Ron Brewer met with SAS Athletics Director Mike Norman to develop the idea of a conference of schools in Southeast Asia.  In 1982 the inaugural IASAS event was held at ISKL, with the four schools competing in soccer and volleyball.
In 1984, International School of Manila (ISM) joined IASAS and then in 1987 Taipei American School (TAS) joined as well, completing the current stable of 6 participating schools.
Currently the IASAS organization of six schools organize and host:
1st Season:  Cross-Country, Soccer, Volleyball
2nd Season:  Basketball, Rugby/Touch, Swimming, Tennis
3rd Season:  Badminton, Softball, Track & Field, Golf
Cultural Convention:  Drama, Dance, Forensics and Debate, Music and Art
Model United Nations
A Mathematics Competition
Also included, but not an official IASAS competition is the club sport of Golf.
For more information on the origins of IASAS, visit here.