Congratulations to all athletes, coaches, tournament organizers, parents and volunteers for making the Season 2 tournaments a success. There seems to be an IASAS spirit that is carried with you into each tournament and that remains with you after you leave your school. This spirit is in evidence by the traffic on this site that comes from all over the world: Toronto, Shanghai, Ann Arbor, Vancouver, Evanston, Dong Ket and Tokyo, to name a few of the locations. Thank you to all who continue to make IASAS a success, be it in sport, CC, MUN or mathematics, your support, in its many ways, makes the IASAS program special.
Rugby        Gold – SAS    Silver – ISKL   Bronze – ISM
Touch        Gold – SAS   Silver – TAS   Bronze –  ISB   (Click Image below to see all)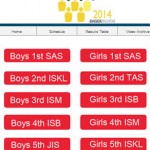 Tennis    Results for tennis are available here.              Girls:   1. ISM 2. SAS 3. ISB 4. JIS 5. TAS 6. ISKL
Boys:  1. ISM 2. SAS 3. JIS  4. ISB 5. TAS 6. ISKL
Swimming   A post from ISM will be available @  http://iasasswimmingbulletin2014.wordpress.com/ until Monday 10 Feb., after that you can click on: bambootelegraph.com and click on the "Other Links" tab.
Results for swimming are available here. The team results and new records set at the meet are below. (Click image)
Boys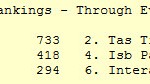 Girls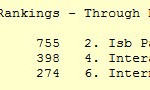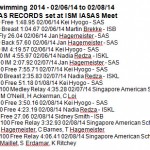 Check all the sites for more up to date information on results.