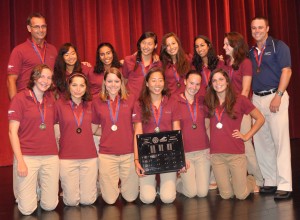 By Evan Petty, Stanton Yuwono and Sasha Jassem
Girls:
The 400m freestyle finals commenced with a fairly even start, all participants on par in terms of speed.  Within the one minute period, ISKL Panther's Diana Redza took the lead and powered ahead.
Redza was followed by Bangkok's Taylor Burke and Taipei's Tove Bjork in lane three.
In the end, Redza took first place (4:43.28) with Burke in second and Bjork in third.
In the 100m butterfly final, the swimmers were evenly matched as SAS sophomore Maya Kale started off with an early lead and ISB's Jane Rungrotekitsakul trailed close behind. Remaining neck and neck until the last length of the 100 meters, Rungrotekitsakul pulled through winning ISB gold and beating the previous IASAS record of 1.05.81 with her time of 1.05.301.
Despite the threatening skies, the 200m backstroke continued without a hitch. Four-year veteran, Sabrinne Gibson of the ISKL Panthers took first place with a time of 2:26.06, just one second shy of the IASAS record. Trailing a couple seconds behind Gibson, Singapore's Jenny Alberts took second place (2:33.11). Gibson and Alberts both held impressive leads over the other six swimmers.
The 50m freestyle finals ended dramatically with an SAS record broken by Eagle Therese Vainius, who came in first place with a time of 27.71. Cha Inn Moon of ISM previously held the IASAS record for this event (27.77), which was broken earlier in the day by JIS Dragon Netta Chalermpalanupap.
Following Vainius is Jakarta's Netta Chalermpalanupap (27.74) and four-year veteran Sabrinne Gibson (28.39). In the final meters, Gibson, Chalermpalanupap and Vainius, evened out and all finished a few milliseconds apart.
With hopes of breaking the IASAS record of 4:08.98 in the 400 meter freestyle relay, the SAS came up just short with a time of 4:10.46. The Eagles' time was still enough for first place – a perfect way to cap off their 12th consecutive IASAS gold medal.
Grabbing second place, with a time of 4:21.83, was ISKL. Their group of Diana Redza, Stephanie Chan, Lima Barbara and Sabrinne Gibson comfortably beat ISB, who came in at 4:30.98.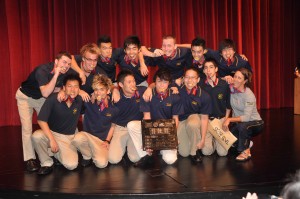 By John Liao and Aarti Sreenivas

Boys:
The 400m freestyle finals saw a surprising victory by Viktor Bjork of the Taipei Tigers, despite an impressive initial start by Bangkok's Nelson Turk.
The event kicked off with Turk ahead of the pack, Singapore's Ted Chritton just a few seconds behind. At the halfway mark, Bjork caught up, passed two swimmers, and secured first place (4:14:15).
Just behind Bjork, Eagle's Ted Chritton won silver (4:14.15) and Kareem Gibson, ISKL four-year veteran, took bronze.
The final round of 100m butterfly, with an SAS swimmer in every heat, put pressure to on the Eagles represent SAS at home and their reputation for dominating IASAS swimming.
The 100m final was a tight race as TAS's Johnathan Lee took an early lead and ISKL's Levar Goossen and SAS's Dennis Chu closed in from behind. Finally, Lee pulled through to take the gold, Goossen silver and Chu bronze.
The final 200m backstroke saw a victory for the Taipei Tigers with Viktor Bjork placing first (2:14.41). Following behind Bjork was Joe Kaewbaidhoon of the Bangkok Panthers (2:19.61). Both Bjork and Kaewbaidhoon had strong leads, with the rest of the participants struggling to keep up.
Eagle's Dan Yamamoto caught up impressively after falling behind two places, putting him safely in fourth (2:23.91). Just two seconds ahead of him, William Cheng of TAS secured third place.
The 50m freestyle finals sped by with Levar Goossen taking first place at 23.99, just a few milliseconds away from the IASAS record of 23.93.
Goossen had an approximately two second lead on the other participants, who all had times around 25 seconds.
In the final boy's event of the tournament, the ISKL Panthers secured the 4×100 freestyle relay gold medal. The relay team of Kareem Gibson, Alex Link, Emiro Goossen and Levar Goossen won at 3:40.53.
Challenging the Eagles for second was the team of Justin Buck, Sukirno Dimas, Hon Jiun Wong and Shin Young Sonn from JIS. The foursome finished at 3:49.07.
Less than a second ahead with a time of 3:48.15, the SAS Eagles narrowly took the silver medal but it was not enough to leapfrog ISB in the standings, ending the SAS gold streak. TAS and ISB each bumped up a spot from last year to first and second respectively.
New IASAS records:
Girls 100m Breast: Tove Bjork (TAS)
1:16.31
Boys 50m Fly: Levar Goossen (ISKL)
26.43
Girls 50m Fly: Jane Rungrotekitsakul (ISB)
30.00
Girls 200m Breast: Tove Bjork (TAS)
2:45.32
Boys 400m Medley Relay: William Cheng, Alex Li, Viktor Bjork, Johnathan Lee (TAS)
4:03.86
Girls 400m Medley Relay: Jenny Alberts, Carolyn Koh, Maya Kale, Therese Vainius (SAS)
4:39.59
Boys 50m Free: Levar Goossen (ISKL)
23.92
Girls 50m Free: Netta Chalermpapanupap (JIS)
27.45
Girls 100m Fly: Jane Rungroteskitsakul (ISB)
1:05.30
FINA awards:
Levar Goossen
670 points
Jane Rungroteskitsakul
651 points